8 Safe, Beautiful Fire Pit Designs You'll Love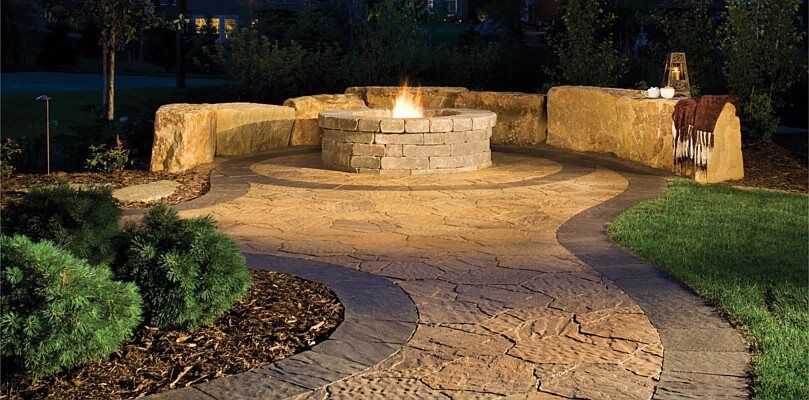 Fire pits are a great way to spend extra time outside. Nothing draws people together like gathering around the fire. Fire pits have a way of getting people to open up to share stories and grow closer together. Adding a fire pit to your yard may seem like a daunting and dangerous task, but here are 8 safe and beautiful designs to get you started on the right path. When you're ready to take the next step, reach out to our experienced team of local landscapers for detailed information.

1. Square Fire Pit
Go beyond the traditional round design with a square look. Square and rectangular fire pits are a great way to stand out, without compromising on safety or breaking the bank. Square pits are a simple way to make a dramatic statement in your outdoor living space. Choosing from a selection of square or rectangular stones offers a wide variety, so you can pick something truly unique. Whether sunken into the ground, or designed with a surrounding seating ledge, this installation will set you apart from the rest.
2. BBQ Fire Pit
Flame-grilled anything sounds like a treat. Bring the joy of camp food to your backyard party with a barbecue fire pit. A dedicated barbecue pit can not only give your hamburgers and hot dogs that delicious flame grilled taste, but you can also enjoy excellent Dutch oven cooking. Your backyard parties will be the toast of the town with your original cooking.
3. Drop Down Deck Fire Pit
Having a separate area in your yard for your fire pit can be an excellent way to reduce safety concerns. Having a drop-down deck or secondary outdoor living area dedicated to this feature can add visual appeal and can provide a natural boundary to keep little hands safe from trouble. Take it a step further by adding a second deck or patio for your fire pit.
4. In-Ground Fire Pit
An in-ground fire pit can be an easy way to keep people safe. When it's not in use, a decorative cover over the fire pit will prevent anyone from falling in and youngsters from playing in a pile of ashes. When sunk into the ground, the versatility of the fire pit allows for a gas or wood heating element and can be any shape you desire. Your imagination is the limit! Consider how seating elements can integrate into this design.
5. Glass Box Fire Pit
Putting the fire behind glass not only looks beautiful, but it also improves safety. No one will accidentally stick their hand, hair, or clothes in the fire if it is protected by glass. The glass gives it an indoor/outdoor feel. Similar to a fireplace inside, the glass box fire pit is protected and separated. (Be careful, the glass is hot!) With the fire contained behind glass, your fire pit can be coupled with a functional table for meals or serving to create a dramatic statement.
6. Burning Bowl Fire Pit
Looking for a unique design? Try a bowl shape. This eye-catching design (pictured) will draw your guests near. Couple it with fire glass filler and you have a pit that could grace the cover of any magazine. Consider adding several small bowls scattered around for ambient light or one large bowl to bring everyone together.
7. Water Feature and Fire Pit
Opposites attract, and so will your water feature and fire pit combination! There are endless ways these two features can be combined to create a relaxing and enjoyable space.
Take that backyard pond up a notch by adding a fire pit on the banks or even in the middle. Light up your summer nights and enjoy your pond beyond the daylight hours.
There is nothing more relaxing than the sound of trickling water from a waterfall or stream. What better way to enhance your waterfall or stream in your outdoor space than to add a beautiful fire pit?
8. Fireplace Fire Pit
If you want a fire feature but are unsure of safety, then creating an outdoor fireplace may be a better choice for you. Outdoor fire places can offer many of the same benefits of a pit. With summer here, you may want to enjoy a nice fire in the fire place, but don't want to heat up your entire home. With an outdoor fire place, you can have the best of both worlds and enjoy the amazing night air.
Install A Custom Fire Pit

Are you ready to have a fire feature of your own? We can make your backyard dreams come true! Contact the Paradise Landscaping team today to get started with a quote. Meanwhile, keep exploring our landscaping galleries for inspiration!